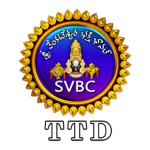 Samskrutam Nerchukundam
Live
Share:
Share this video:
A linguistic expert teaches the basic lessons and concepts of Sanskrit, one of the sacred languages of the Hindu community.
Sri Venkateswara Bhakti Channel (SVBC) is previliged to relay the LIVE proceedings of SEVAS like KALYANOTSAVAM, UNJAL, ARJITHA BRAHMOTSAVAM, VASANTHOTSAVAM AND SHAHASRA DEEPALANKARA SEVA / HAPPENINGS / PROCESSIONS of Lord Venkateswara from In and around the Temple Premises.
Watch TTD Bhakti Channel Live for free only on YuppTV
Sri Venkateswara Bhakti Channel is Available in United States, United Kingdom, Canada, Australia, Malaysia, Singapore, Europe, New Zealand, Japan, Saudi Arabia, Middle East, Qatar and UAE.